Description
Gejuff OM Flag Hindu Religion Arya Samaj Om Imprinted Jhanda/Outdoor 100% Special Silk Fabric (Warp-Knitted Polyester)| Orange Color for Yoga, Meditation, Bhagwa Dhwaj For Temple, House
Introducing the GEJUFF Arya Samaj Flag, a symbol of the Hindu religion, beautifully imprinted on special silk fabric (Warp-Knitted Polyester) in a vibrant saffron/orange hue. This meticulously designed Om Flag is a must-buy product for all Hindus and Arya Samaj followers, serving as a cherished representation of their faith and beliefs.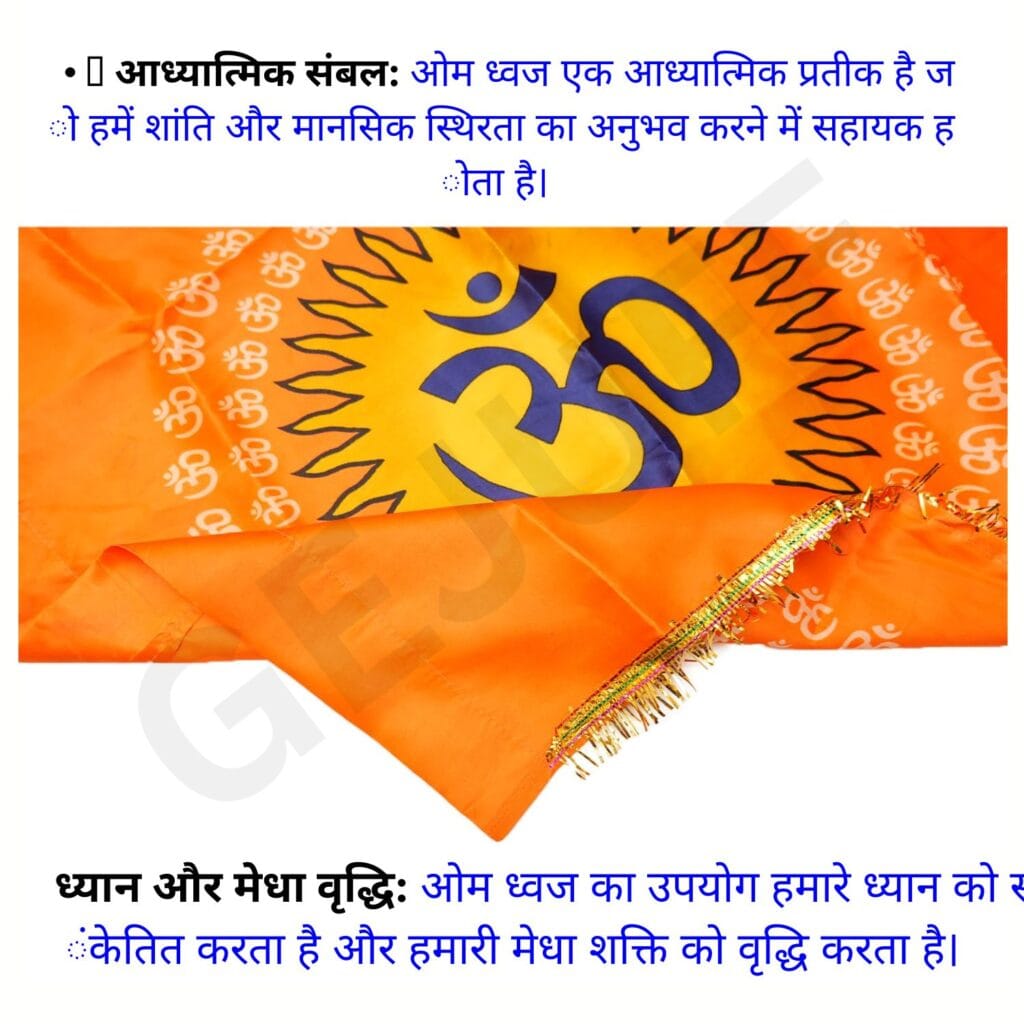 With ease of installation, this premium flag is a perfect addition to any setting, adding a touch of spirituality and reverence. Measuring 30 X 45 inches, it proudly showcases your followership of Arya Samaj Mandir, making it an ideal choice for temples, homes, and other religious spaces.
Crafted from 100% special silk fabric (Warp-Knitted Polyester), this flag guarantees a luxurious and high-quality feel, elevating the overall visual appeal. The fast colors used in the printing process are UV resistant, ensuring that the flag retains its vibrant and captivating appearance, even when exposed to sunlight.
Versatility is a key feature of this flag, as it can be easily washed by hand or machine, without compromising its integrity or colors. Its super-strong stitch on all four sides ensures maximum durability, allowing the flag to withstand various environmental factors and remain in pristine condition.
Embrace the spirit of unity and devotion during social and religious gatherings, as this printed flag remains wind, weather, and fade-resistant. No matter the occasion, the GEJUFF Arya Samaj Flag stands strong, upholding its symbolic significance with pride and reverence.
Affordability meets quality with this product, making it an ideal choice for your restoration needs. It seamlessly blends beauty, spirituality, and affordability, making it accessible to all those seeking a cherished symbol of their faith.
As you display this Om Flag in your space, whether it's a temple, home, or during religious gatherings, it serves as a constant reminder of the values and principles upheld by Arya Samaj's followers.
Google Search on Om Flag
Om flag
Om flag images
Om flag shop
Bhagwan om flag
Orange om flag
Saffron om flag
Om flag png
Saffron om flag
Om flag online